Former Governor Reveals Charles' Investment Secret! See How She Made Bigger Gains in 2 Weeks Than Most Pros Make in 2 Years Using THIS Secret. Click HERE for More...
My Story
As a kid, every dollar mattered.
You see, I wasn't born into "old money." I didn't go to prep school in New England or spend my summers in the Hamptons.
Instead, I grew up on a blue-collar street in Brooklyn, New York. My dad was a warehouse manager, and my mom stayed at home to look after my three brothers and me.
So, I know the value of a hard-earned dollar. And that's why I've made it my mission to give back to Main Street investors like you.
Now, I've experienced all the ups and downs of the market as a trader, money manager, hedge fund manager and a manager of my own personal wealth. I've seen all that the market can throw at an investor.
At 20, I was trading on the floor of the New York Futures Exchange. And it wasn't long before I had my own money management firm, overseeing $200 million in clients' money. Barron's even crowned me the No. 1 trader in the nation when I was 35.
But after spending 37 years on Wall Street, I wanted to do more. And I'm just getting started…
By bringing my decades of experience to Alpha Investor, I'll make Wall Street's best profit opportunities simple and clear cut for everyday investors like you.
Now, I don't pull any punches. I put my heart and soul into every recommendation I make.
And I'm excited to help show you how to get the right stocks at the right price — without risking your hard-earned money.
"Investing in the stock market without an experienced guide is a lot like being a one-legged man in an ass-kicking contest … In both cases, you're at a very big disadvantage." — Charles Mizrahi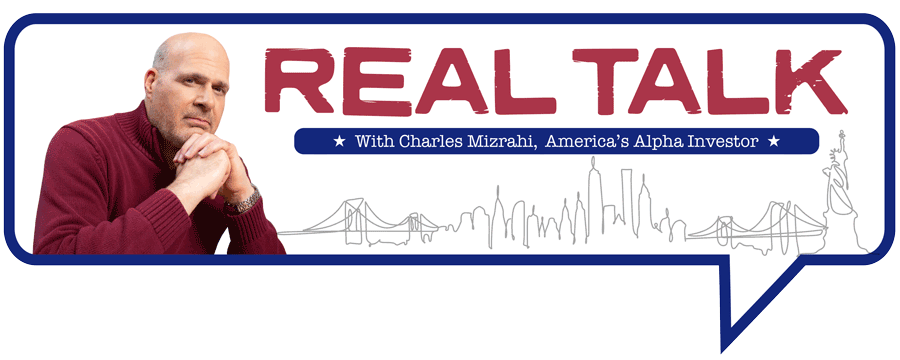 Sign Up for Our
Free Daily Newsletter
We make Wall Street profits simple for Main Street investors just like you. Get free daily insights from Charles and the rest of the Real Talk team.
For 100 years, a metal hook held up wires and insulators along the Feather River Canyon, California. After a century's worth of wind, rain and snow wearing it down, it eventually broke in half. When the live wire fell, it ignited the dry brush below setting off a huge...
read more
In Alpha Investor, Charles uses his groundbreaking Alpha-3 Approach to show Main Street Americans how to target great companies trading at bargain prices.
Too many people in our great nation are struggling to achieve the American dream. That's why Charles walked away from Wall Street and dropped his clients … in order to help everyday folks — just like you — achieve their financial goals. In Alpha Investor, he shows you how to target great companies trading at bargain prices. So, join Charles on the path to Main Street profits today by subscribing to Alpha Investor.